Golden Microneedle Fractional RF Machine breakthrough use high-power high-frequency E wave conduction, at each point, the probe can emit the matrix molecular energy waves up to six million times per second, directly reach the root of wrinkles and slack tissue, stimulating and increasing collagen regrowth, through heat shrink collagen, precisely positioning and activating skin collagen and fiber, awaken the collagen regeneration, reconstruct collagen scaffold, get the purpose of deep skin tightening, skin lifting ,wrinkle removal, stretch marks removal and acne removal.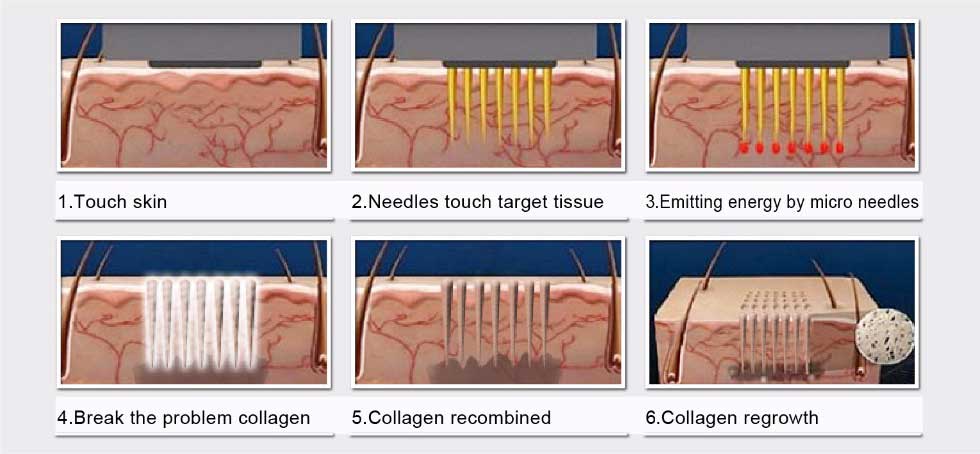 Effective Solution Of Removing Stretch Marks& Acne & Pigmented Skin
Traditional life beauty can only be limited to the skin epidermis penetration, I which is not easy for skin to absorb nutrients, and difficult to treat deep skin problem, Golden Microneedle Fractional RF Machine use the mechanical physically micro needle combined radio frequency ,give better heat to the deep skin ,stimulate the collagen regrowth
directly changing the problem ,bring beauty and smooth skin.
Golden Microneedle Fractional RF Machine Combined Vacuum adsorption technology,

vacuum suction can be adjusted according to different patients demands, Can help delivery energy more exactly into the treatment area,
to get more effective wrinkle removal/skin whitening/acne removal results.
Combined With Microneedles
And Fractional RF Skin Rejuvenation Technology
QM-320 is also combined Fractional RF heat tech exactly delivering high energy into the

deep derma tissue not just on the ourside layer, stimulating each tissue
collagen regrowth ,reshaping problemed skin, remove wrinkles ,stretch marks.
10.4 inch true color screen ,human machine interface HMI.
Fool operation interface design, regular training beauticians
can quickly adapt to the machine, also if there is special
requirements ,we can produce according to your request.
Time, Needle Depth, Needle Speed, Vacuum Suction and
RF energy can be adjusted