940nm Infrared laser reduces skin impedance by heating skin and RF energy penetrates deeply into connective tissue;
The synergistic combination of infrared laser and conducted Bipolar RF energies increase the oxygen intracellular diffusion by heating the skin Vacuum plus specially designed rollers manipulate leads RF penetration to be even 5-15mm. At the same time, Cavitation and Rollers mechanical tissue manipulation nips and stretches fibrillar connective tissue, effectively breaks down subcutaneous fat as well as extruded capillary vessel, Increase lymphatic drainage, promotes metabolism and reduces or shrinks the size of the actual fat chamber and greatly improved body contouring effect;
The technology that vacuum folds skin makes RF energy penetrate a specific folded skin, greatly improve effect and safety, even for the upper eyelid area treatment.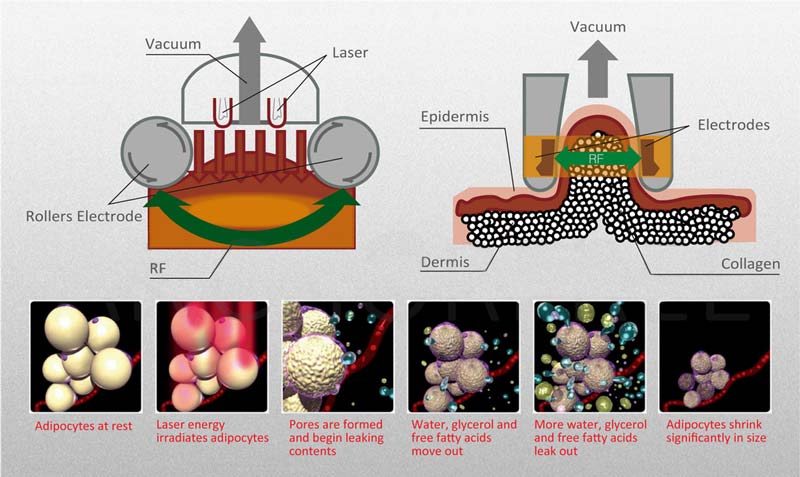 40KHz Cavitation technology in itself means that the ultrasound causes the fat cells to vibrate so fast (high frequency) so vacuum bubbles are formed in the cell. As a consequence, the outer casing of the fat cells (the membrane) is "blown out" and the fat ends outside the cells. Outside of the membrane, the fat can be broken down to rapidly accessible energy, which is then taken up in the blood or transported by lymph nodes, after which they are either burned or stored in other fat cells elsewhere in the body.
Technology 2: Mechanical roller massage
The mechanical roller massage works profoundly on densified connective tissues. The mechanical massage rollers enhance the skin's cell-generating activity, resulting in thickened fat deposits being drained.
Technology 3: Vacuum massage
The vacuum massages lift, mold and massage the skin deep and on the surface. The massage also increases the blood circulation, which in turn leads to the release of fat from the fat cells. The massage further provides a tightening of the skin.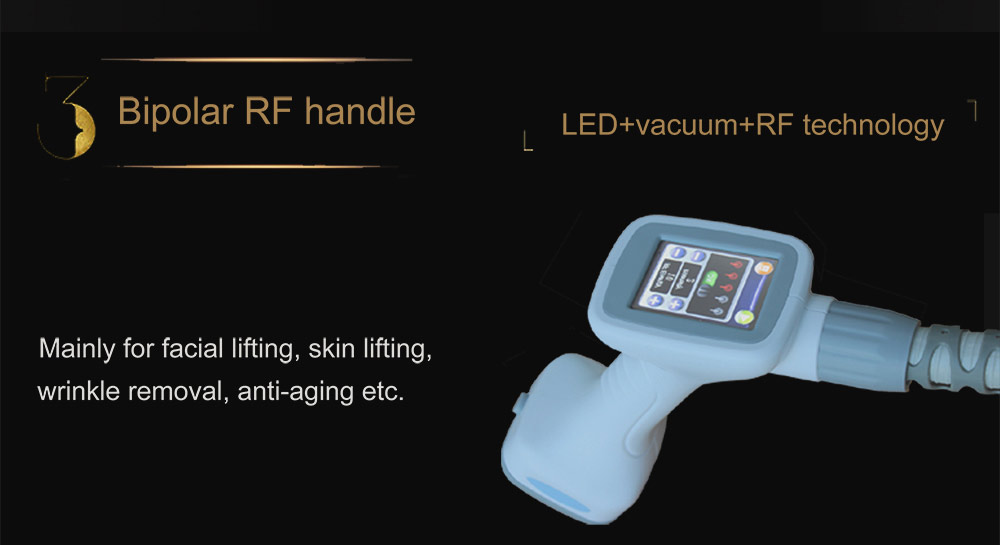 Technology 4: Bipolar RF(radio frequency)
Bipolar RF makes water molecules in the fat revolve with high speed to produce friction and shock, then triglyceride go out from fat. RF energy with 1-10M could get to 4-15mm skin depth, which makes every layer get heat evenly. The new collagen makes skin turn tighten. This Bipolar RF makes the reorganizing fat cells connect more closely, stimulate the collagen re-grow, avoiding flabby skin after slimming treatment.
Technology 5: 980nm infrared light
Infrared light (IR) has a direct and very positive effect on muscles and joints. IR increases the oxygenation in the cells and gives a warming effect, which leads to increase in the endorphin production that relieves pain and stiffness in muscles and joints. IR also strengthens the elasticity of the connective tissue and increases lymph and blood circulation. When treating the skin in, for example, the face with IR, clogged pores are opened, gray and glossy skin gets a new and finer luster.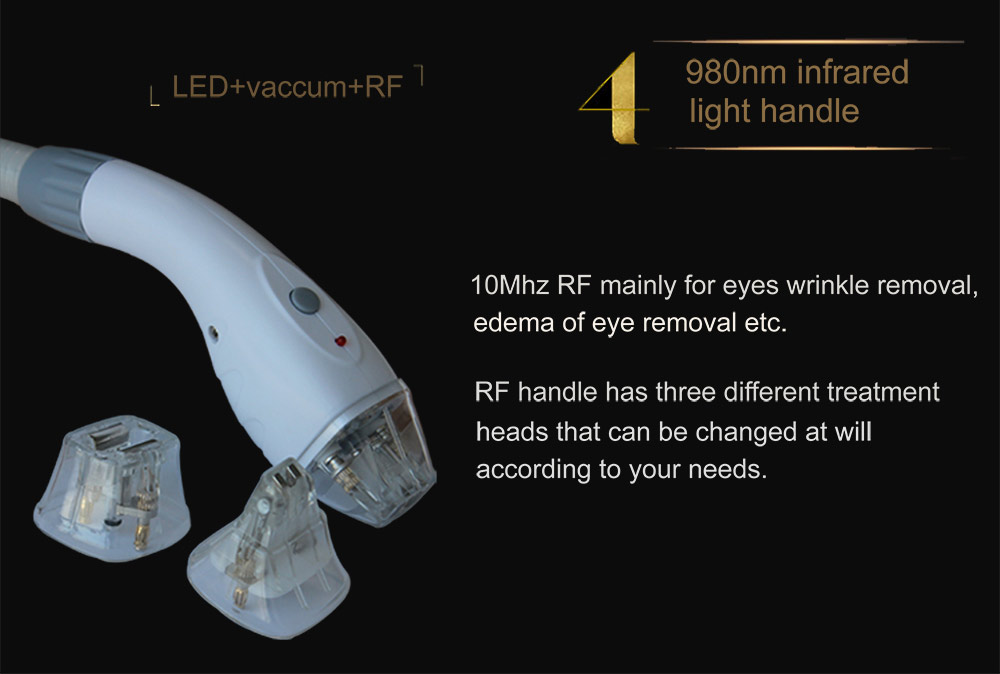 Technical Specification

90kPa -25kPa(68.4Hg -19Hg)

10kPa -75kPa(7.6Hg -57Hg)

1-8s cyclical working
High-frequency vibration working

Three different frequencies

Deep/Middle/Light(Optional)

Rollers of Handpiece No.1
Electrode pieces of Handpiece No.2 & No.3
Transducer of Handpiece No.4

40W rated of Handpiece No.1
16W rated of Handpiece No.2

2.4 inch color display screen

AC220V±10%,50Hz/AC110V±10%,60Hz